THE NATURAL NEEDS OF CHICKENS
Chickens are descended from the Bankiva chicken. These live in small mixed groups of five to twenty chickens and a rooster in sparse forests, on forest edges or in clearings. There they scratch for food, groom themselves with sand baths and prefer to spend the night on the branches of trees and bushes.
You can still recognise their origins in today's domestic chickens. It is their primal instinct to scratch and peck. They prefer to roost in an elevated place, for example on perches. They feel extremely uncomfortable in the open air without cover.
Keeping chickens outdoors takes these needs into account. The hens feel safe in the henhouse as a retreat with its perches. Therefore, they will not move as far away from it as they like. At the same time, they have areas available for grazing, pecking and scratching.
However, the next problem arises directly in today's larger barns: the chickens destroy all the surrounding vegetation within weeks with their scratching. Parasites spread and the chicken droppings cause localised over-fertilisation. A mobile coop can provide a remedy here.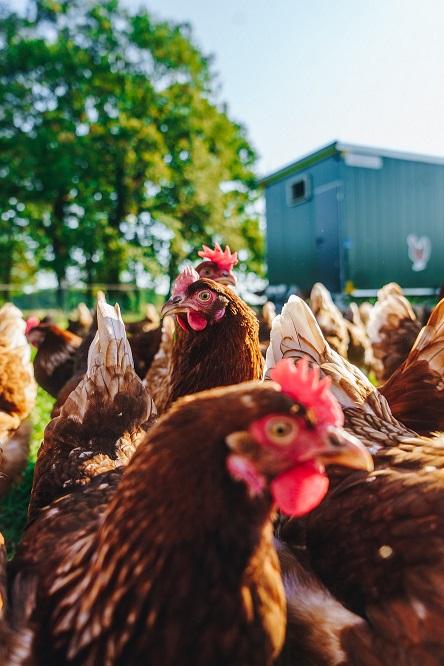 ---
What is a mobile chicken coop?
A mobile barn system or mobile barn is a fully equipped barn that is designed to change location at regular intervals. Semi-mobile systems are only moved once to five times a year. They usually require fixed connections and stand on supports or skids. Fully mobile systems are self-sufficient and can be moved much more frequently. Some of them are even authorised for use on public roads.
A mobile chicken coop is particularly suitable for keeping chickens, as chickens have a great need for protection and cover. Due to their small body size, they can manage with a relatively small coop and quickly graze the ground around the coop. The idea of a mobile chicken coop is actually an older one. In the Detmold Open-Air Museum, for example, there is a replica of a chicken cart, i.e. a mobile chicken coop. This was driven onto the harvested fields. This meant that they could be utilised once again and the chickens could survive without additional feeding.
Mobile barns are very popular, mobile chicken coops for a small number of chickens that can or must be moved regularly. In Austria, mobile chicken coops for so-called travelling chickens are sold. The trend in the 20th century was driven by organic farmin. But it is also particularly worthwhile for direct marketers who do not want to keep thousands of chickens. Instead, they want to stock their own stall with their own eggs or broilers. There are now various providers of mobile chicken coops.
In addition to the exact room layout and design, the main differences are the type of power supply, the type of feed and water supply, egg extraction, the degree of automation, roadworthiness and more.
About farmermobil
The leading manufacturer of mobile poultry houses, farmermobil GmbH, is a family-run company from the Münsterland region of Germany. farmermobil develops its mobile poultry houses in close cooperation with farmers. In addition to various barn sizes for keeping laying hens and rearing chickens, farmermobil offers a high degree of practicality combined with reliable and solid technology.
---
WHAT ARE THE ADVANTAGES OF A MOBILE CHICKEN COOP?
Mobile chicken coops actually combine the advantages of keeping chickens completely free range with those of a barn. Whereas in earlier times the focus was on optimising the use of scarce food resources, today it is more about animal welfare and environmental aspects.
With a professionally built mobile hutch, the animals have a species-appropriate retreat. There they are not only protected from predators, but also from the weather. They are also provided with water, food and perches. If they are chickens, laying nests are also provided. Species-appropriate free-range housing means that the chickens are less stressed and more agile. At the same time, the chickens have free range and can peck, scratch and eat outside.
If the mobile barn is moved regularly (e.g. once a week), the sward is not destroyed and the nitrate input is kept within limits. Parasites don't stand a chance either. The chickens have regular access to fresh green pasture. In many regions, a mobile shed can be erected without planning permission. This saves you a complex authorisation procedure as well as a lot of time and money.
For the farmer, a mobile chicken coop initially means more work. This is because far fewer animals live in a mobile barn than in a large fixed barn. This is why it is particularly important to choose a mobile hen house with the highest possible degree of automation. So that the workload is manageable for you and the husbandry is also economical.
With the fully automated mobile barns from farmermobil, you save yourself tedious manual labour in the barn. You also gain more time for your animals and animal welfare.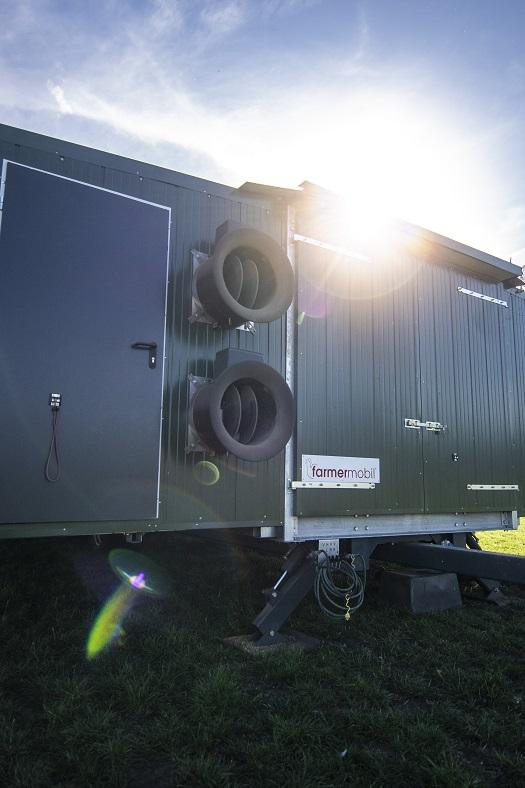 ---
OUR SUMMARY
Mobile chicken coops offer great opportunities, especially for newcomers to poultry farming, but also for direct marketers. With the ready-to-use mobile poultry houses from farmermobil, the amount of labour required is kept to a minimum, so that the mobile poultry house can also be operated as a sideline.
Our mobile chicken coops are fully self-sufficient thanks to a water tank and a feed storage container in the coop. The electricity for the battery supply can either be generated via a photovoltaic system or charged via a 230-volt connection.
The labour-saving nature of full automation gives the farmer more time to look after his animals. Thanks to the species-appropriate mobile housing, the chickens are relaxed, agile and eager to lay.
A mobile barn is easy to move, and some models are even roadworthy as trailers and can be moved along public roads. If you would like to find out more about the labour-saving mobile barn from farmermobil, you can find more information here.
If you would like to find out more about mobile poultry farming or are interested in other agricultural topics, you can read more interesting articles free of charge on our blog.
We regularly provide an insight into practice on the farm. We look forward to your comments – exchanging ideas with like-minded people is important and helpful.
So it's worth popping in! We look forward to seeing you! If you would like to find out more about our mobile stable, you can take a look at our website now.
Have fun!